Greenpia IND / Advanced agriculture has a competitive edge.
An artificial pollination device
using the speed sprayer
Can work on 2500~3000 pyeong of lands (0.82ha~0.99ha) within an hour using the wind power of speed sprayer
Comparison of efficiency (Apples)
Needed labor (per 1ha)
Working hours (per hour)
Flower Festival

1 

person

1Hour

Cotton swab
33 Person
19.8 Hour
Existing artificial
pollination device
6.6 Person
19.8 Hour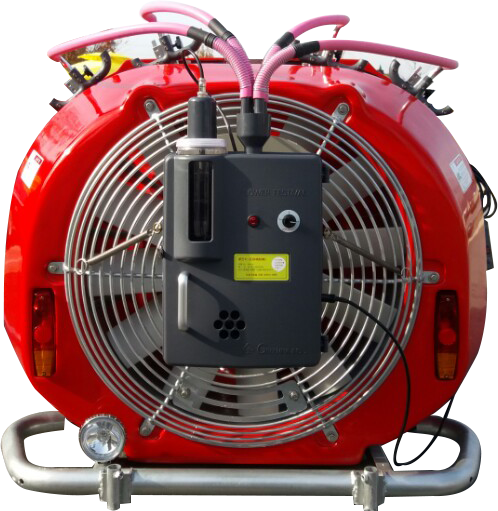 Product Features
It uses the wind power of a speed sprayer to spread the pollens in the air and then spray them evenly over the plants.
The amount of pollens can be adjusted by using 3-stage control switch.
Set up to be sprayed at various angles through four ejection hoses.
Designed to generate vortex wind for even jet among nozzles and hoses.
ON-OFF function can be operated in the driver's seat by a switch in the driver's seat
Specifications
| | |
| --- | --- |
| Product name | Flower Festival (Artificial pollination device) |
| Model | GKJ – 6 |
| Capacity | 1.2L |
| Weight | 7.85kg |
| Mixing ratio | Pollen: Lycopodium powder / 1: 3 |
| Function | Equipped with speed sprayer |
| Efficiency | 2.500 pyeong~3,000 pyeong (0.82ha~0.99ha) / hour |
| Power | 12V |
Product composition
Body, one set of remote control, and four silicone hoses
Nozzle fixing clip + 4 nozzles, cable ties for remote control cable & wire clip
Product Installation Order
1. Attach the device (Attach the upper rack and magnet bracket at the bottom)
2. Attach the magnet bracket at the bottom and a spring
3. Fix the jet to the nozzles using tongs
5. Connect the hoses to the jets of the body
6.  Connect the hoses to nozzles
7. Properly connect the hoses so that it does not droop
8. Connect the power jack plug to the switch of the body
9. Connect the power to the battery of speed sprayer by placing electrode correctly
10. Disconnect by turning the power jack plug of agitation device to left
11. Remove the lid of the container by turning the agitation device to left.
12. Put proper amount of pollens into the container considering the size of land.
13. Connect the agitation device and connector jack by turning them to right.
14. ① Place the control switch on 1, 2, or 3 considering the proper amount of ejected pollens ② and turn on the switch.
15. Safely install remote control cables in speed sprayer. (Use cable ties & wire clips)
16. Turn on or off using the remote control in the driver's seat.
17. Photo of completed installation
Precautions
Do not disassemble the device in your own way.

Prevent water from entering the device

After use, please remove remaining pollen residues, and keep it in a dry place. (Use air compressors to clean the inside)

Please note that this product is an aid for artificial pollination.
The dilution ratio of pollen + lycopodium powder and how to apply it
Please use 80g of pollen (20g x 4) + 240g (80g x 3) or 250g (50g x 5) of Lycopodium powder; mix 1 part pollen to 3 parts powder.

For apples: Apply it from 9 o'clock to 11 o'clock (It is possible to be applied until the afternoon, but early morning right after morning dew disappears is better)

For pears: Apply it from 9 o'clock to 15 o'clock, and double application is recommended (Application for two consecutive days)

Apply it when the temperature is over 19℃ and when disc florets bloom from 60% to 70%.

Use of bees is recommended when the field is flat or if there are nets.
Guidelines for paid repair service
Careless use of products (Damage, harmful ingress of water, external shock, overload, etc)

Natural calamities (Fire, earthquake, flooding, etc)

When the product is disassembled in the user's own way

Failures due to repair or modification by others apart from our company or our dealers (Agency, sole distributor)

Failures caused by abnormal working conditions
A/S and Quality Assurance
The warranty period is one year from the date of purchase.

However, even if it is within warranty period, paid service will be provided for the cases which are for the paid repair.